The New European skills passport
Responsible Author: Rahma RACHDI | Paris, 06/17/2014, 21:38 Time
USPA NEWS -
In April 2014, the European Union had over five million young people under 25 unemployed. The European Commission today launched the European skills passport in Catering, which aims to facilitate contacts between job seekers and employers in the hospitality industry and tourism in Europe.
The British Ministry of Defence announce
Responsible Author: Rahma Rachdi | Paris, 06/17/2014, 17:48 Time
USPA NEWS -
Philip Dunne, Secretary of State for Defence Equipment, Thales announces the awarding of a contract for 56 million euros (48 million pounds) by the UK Ministry of Defence (MoD) for the development and manufacture light anti-ship system FASGW (L).
Sebouh the Bartender,Champion mixologist
Responsible Author: Rahma RACHDI | Dubai, 06/13/2014, 23:23 Time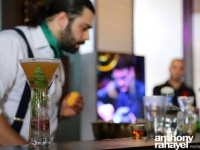 USPA NEWS -
As promised the drink, was indeed original and created for delicate palate by Sebouh, strong enough in the mouth not too sweet and enhanced by the lemon and spicy taste.The Iris must be user friendly, with a lounge atmosphere, original printed by the originality signature of a tasteful mixologist
| | |
| --- | --- |
| | Daren Frankish |
| | RAHMA-SOPHIA RACHDI |
| | Ruby BIRD |
| | Yasmina BEDDOU |
| | Ricardo Dominguez |