| | |
| --- | --- |
| WestJet Departs Halifax Stanfield Runway 23 | Source: Brian Teepell Photography |
After On Board Fire Last July
Responsible Author: Brian Teepell | Halifax, Nova Scotia, 01/21/2023, 23:10 Time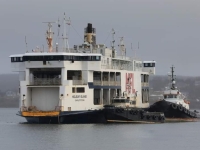 USPA NEWS -
On July 22, a fire in the engine room of the MV Holiday Island forced 230 passengers to be evacuated from the ship. Fortunately, there were no injuries to passengers or crew after the vessel was run aground near the terminal in Wood Island's, Prince Edward Island.
The American presence grows by 30%
Responsible Author: Jose A. Martin | Madrid, 01/19/2023, 16:39 Time
USPA NEWS -
The King and Queen of Spain, Felipe VI and Letizia, inaugurated on Wednesday the 47th edition of the International Tourism Fair (FITUR 2023), which is held until Sunday at IFEMA, in Madrid. The fair, which celebrates its first edition without restrictions after the pandemic, equals the pre-pandemic occupancy figures of its record year (2020) and is aligned with the momentum that national and international tourism is gaining. A total of 8,500 participants, 131 countries, 755 main exhibitors and 66,900 square meters of exhibition space define this edition, which means revenue for Madrid of more than 400 million euros.
| | |
| --- | --- |
| | Daren Frankish |
| | RAHMA-SOPHIA RACHDI |
| | Ruby BIRD |
| | Yasmina BEDDOU |
| | Aurangzeb Akbar |