THE FRENCH ARE REVOLTED
Responsible Author: Jedi Foster, Rahma Sophia RACHDI | Paris, Washington DC, 01/31/2023, 22:46 Time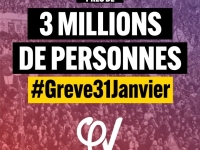 USPA NEWS -
France is in turmoil and a wind of anger or even reflection is blowing throughout the country, in position for the pension reform project, announced 10 days ago at the Council of Ministers. A large demonstration had already taken place on January 19, as well as strikes, totaling 1.12 million people according to the Minister of the Interior and 2 million according to trade union organizers. According to the organizers, the Intersyndicale, ie the grouping unions, CGT, CFT, FO, etc., the 8 major French unions, there were 2.8 million people in the streets throughout France, including 500,000 in Paris , and 1.27 million according to the Minister of the Interior in protest against the pension reform. Even small towns like those of Gueret (Center of France of 13,000 inhabitants) have manifest (1 inhabitant out of 2), one of the 250 bridge mobilizations in France.
The Parisian procession of strikers started in the early afternoon from Place d'Italie (13th arrondissement) or the town hall of Paris 13th, to Place Vauban.
TO ASSURE THEM DETERMINATION & SUPPORT
Responsible Author: Jedi Foster, Rahma Sophia RACHDI | Paris, Washington DC, 01/31/2023, 00:35 Time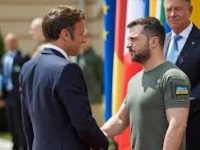 USPA NEWS -
French President, Emmanuel MACRON will meet successively with the President of the Verkhovna Rada of Ukraine Mr. Ruslan STEFANCHUK, then with the Ukrainian Minister of Defense Mr. Oleksiy REZNIKOV, this Tuesday, January 31, 2023 at the Elysee Palace. The President of the Rada is on an official visit to Paris at the invitation of the President of the National Assembly Mrs. Yaël BRAUN-PIVET. The Head of State made a point of personally meeting President STEFANCHUK on this occasion, in order to assure him of his determination to continue his commitment alongside Ukraine.
| | |
| --- | --- |
| | Daren Frankish |
| | RAHMA-SOPHIA RACHDI |
| | Ruby BIRD |
| | Yasmina BEDDOU |
| | Aurangzeb Akbar |