FRANCE IS UNDER SHOCK
Responsible Author: Jedi Foster, RSR | Paris, Washington DC, 06/08/2023, 22:44 Time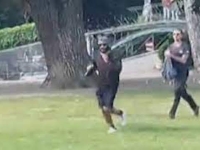 USPA NEWS -
Today, Thursday 8 June 2023, A bloodthirsty knife attack took place this morning, at 9:45 a.m., in the heart of Annecy, in a playground. An assailant stabbed four young children of around three years old and two adults. The six victims are in serious condition because of serious injuries. Police has confirmed that the assailant, a 31-year-old Syrian asylum seeker, was overpowered and arrested by law enforcement. He had lived 10 years as an optical refugee for 10 years, and had refugee status in Sweden, before coming to France in November 2022. A three-year-old British child is among the injured, another is Dutch. Two adults were also hurt, with one in a critical condition.
The President of the French Republic Macron, condemned this attack, on twitter "Attack of absolute cowardice this morning in a park in Annecy. Children and an adult are between life and death. The Nation is in shock. Our thoughts are with them as well as their families and the emergency services mobilized." Source: Officials
A courageous young man, carrying two backpacks, managed to keep the assailant away, before he was neutralized by the police. He would be 24 years old and would have started a tour of the ca
OVER KAKHOVKA DAM WAS DESTROYED
Responsible Author: Jedi Foster, RSR | Paris, Washington DC, 06/07/2023, 21:38 Time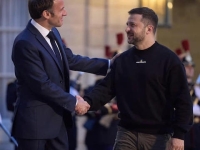 USPA NEWS -
French President, Emmanuel Macron reacted, Wednesday, June 7, the day after the destruction of the Kakhovka dam, in Ukraine. "We will send aid in the next few hours to meet immediate needs", promised the French head of state, on Twitter, condemning a "heinous act which endangers the populations".
According to the French Presidency, Elysee, the Crisis Center of the Ministry of Foreign Affairs will quickly dispatch a first convoy of around ten tonnes of products requested by Ukrainians, in terms of health, hygiene and water sanitation, including a portable cistern.
| | |
| --- | --- |
| | RAHMA-SOPHIA RACHDI |
| | Daren Frankish |
| | Ruby BIRD |
| | Aurangzeb Akbar |
| | Yasmina BEDDOU |