Search results for: "Zayad Alshaikhli"
Political article
Responsible Author: Dr. Mohanad Al-Azzawi | Abu Dhabi, 04/16/2019, 00:42 Time
USPA NEWS -
"If I had only one hour to save the world, I would spend fifty-five minutes defining the problem, and only five minutes finding the solution."
Albert Einstein
Ideas and Development Projects
Responsible Author: Zayad Alshaikhli | Kuwait, 04/07/2019, 20:19 Time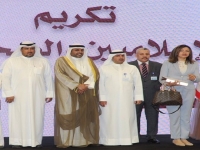 USPA NEWS -
Translated by Dania Alshaikhli
The first international scientific forum for "Altamiuz" entitled "Ideas and Development Projects", was launched on Wednesday the third of April in Kuwait to develop the Arab sports system.
The forum, which was held at The Palms Beach Hotel in central Kuwait, highlighted the most important sports and youth issues under His Excellency the Minister of Information and the Minister of State for Youth Affairs, Mr. Mohammad Nasser Al-Jabri, and the attendance of managers of some of the government and private institutions.
That support the research, projects and the presence of a group of academies and specialists in this field to increase participation and awareness of its importance, as one of the components of the modern state.
The forum is a practical and scientific step towards the promotion of Arab sports, a point of convergence between the concerned Arab sports and sports bodies and ministries concerned with the Arab sports arena, to ensure regular practice and fair competition among Arab athletes and to preserve Arab sports achievements.
| | |
| --- | --- |
| | Daren Frankish |
| | RAHMA-SOPHIA RACHDI |
| | Ruby BIRD |
| | Yasmina BEDDOU |
| | Roberto Magni |