Search results for: "Yellow Vests"
ATTACK OF HOSPITAL SALPETRIERE
Responsible Author: Jedi Foster P/O Rahma Sophia Rachdi | Paris, Washington DC, 05/01/2019, 23:59 Time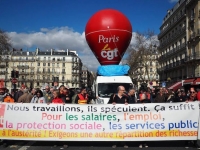 USPA NEWS -
The demonstration of the traditional parade of the CGT in France has resembled at least 164 500 demonstrators according to the Ministry of the Interior and 300 000 according to the CGT, the Union of French Workers. This year, the demonstration took place under strong tension as the Yellow Vests were part of the party and groups of Black Blocks, facing a large number of police, on a device strengthened by 7,400 police and gendarmes. The police counted between 1000 and 2000 vandals came to disrupt the protest which spoiled the Labor Day celebration, where it should've happened to be in a friendly and peaceful way ....The unions have been very discreet since 17 November or is the movement of Yellow Vests that have sometimes been a little overshadowed by the "yellow vests", which they do not relax their determination for 24 weeks already.
ENA TO BE DISMISSED & INCOME TAX REDUCED
Responsible Author: Jedi Foster P/O Rahma Sophia Rachdi | Paris, Washington DC, 04/26/2019, 00:04 Time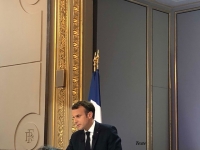 USPA NEWS -
This Thursday, April 25, a month after the end of the great national debate, Emmanuel Macron addressed three hundreads politic journalists for a rare press conference. This is a one of a kind event for the French President Macron, because it is his first National Press conference, since he became President of Republic of France. Unlike his two predecessors, Presidents Francois Hollande and Nicolas Sarkozy, who'd become accustomed to this difficult and direct exercise before the French and Foreign Press, once a year, at the Elysee, Emmanuel Macron did not follow the custom. In the year 2018, President Macron canceled this annual press conference and reinstated it this year, which imposed itself, following the three months of the Grand National Debate, (Launched on January 15, the president launches the debate in Grand Bourgtheroulde (Eure).) proposed by President Macron in response to the crisis of Yellow Vests, which started their movement on 17 November 2018. However, before answering the interrogations of the reporters, the President of the Republic began by drawing a report of the crisis triggered by the movement of Yellow Vests.
| | |
| --- | --- |
| | Daren Frankish |
| | RAHMA-SOPHIA RACHDI |
| | Ruby BIRD |
| | Yasmina BEDDOU |
| | Roberto Magni |