Search results for: "Riots"
18th ACT OF 32 300 YELLOW VEST IN FRANCE
Responsible Author: Jedi Foster P/O Rahma Sophia Rachdi | Paris, Washington DC, 03/16/2019, 23:11 Time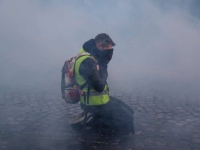 USPA NEWS -
The most beautiful Avenue of the World and the most frequented by Tourists in love with Paris was sacked by vandals on the occasion of the 18th event of the Yellow Vests (Movement which started on November 17, 2018 in France). Shocking images scroll on the screens of French TV channels, while amateur videos (which would be 1500 according to the figures of a police prefecture of Paris) circulate in social networks showing clashes between rioters and police.
Today, late afternoon, the famous chic Champs Elysees restaurant in Paris, Le Fouquet's, was ransacked and burned by infiltrators in the Yellow Vests event. This iconic place by the frequentation of celebrities and in skating rinks of the big stars of the cinema, was set on fire at the end of the afternoon. (Former French President Sarkozy celebrated his victory in 2007). Other places such as luxury boutiques, including Zara, Lacoste, Nespresso, PSG have been robbed and vandalized, along the Elysees fields, as well as buildings housing banks. The police and firefighters also intervened and saves a woman and her child in a building in Paris 8th Street Franklin Roosevelt, which was burned. The demonstrations took place also in big
PARIS PROSECUTOR OPENED INVESTIGATION
Responsible Author: RSR, Jedi Foster | Paris, Washington DC, 02/19/2019, 14:27 Time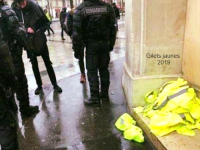 USPA NEWS -
Alain Finkielkraut, in the late afternoon, at the 14th district, of Montparnasse, Saturday 16th, during the Yellow Vest's protest.
Since then, The Paris prosecutor opened an investigation, Sunday, February 17, for "public insult because of the origin, the ethnie, the nation, the race or the religion" after the antisemitic insults of which the victim was the philosopher and writer, Alain Finkielkraut, Saturday, on the sidelines of the Parisian mobilization of "yellow vests". The investigation was entrusted to the Human Crime Suppression Brigade (BRDP). For his part, Alain Finkielkraut said he would not complain, saying "neither victim nor hero". Sunday night, on BFM, he said: "If I had gone through, I would have had my face smashed, I owe my greetings to the CRS cordon. Unfortunately, this is not the first time. I will not complain, I am not here to punish, but to understand. " The Paris prosecutor opened an investigation, Sunday, February 17, for "public insult because of the origin, the ethnie, the nation, the race or the religion" after the antis
| | |
| --- | --- |
| | RAHMA-SOPHIA RACHDI |
| | Robbie Merritt |
| | Ruby BIRD |
| | Yasmina BEDDOU |
| | Daren Frankish |