Search results for: "Rahma Sophia Rachdi"
CHOSEN BY PRESIDENT MACRON
Responsible Author: Rahma Sophia Rachdi, J Foster | Paris, Washington DC, 11/22/2017, 02:28 Time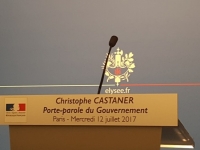 USPA NEWS -
Christophe Castaner said about his election to the leadership of the party LREM, ("La Republique en Marche", "Republic In March") "Saturday, the Council entrusted me with this immense responsibility to become the General Delegate of our movement. It's a pride. What makes Republic In March is a different way of doing politics. To succeed, I need you. "This states the message he sent to the militants of his party LREM the party founded by President Macron, in April 2016, became the party of France's richest and counts at the National Assembly with 351 seats, a string majority of MP's, since the overwhelming victory last at the legislative elections in June 2017. LREM, is te youngest and richest Party in France, a one of a kind political movement, since the Socialist Party is in agony and the right wing (Les Republicans), stuck in the affairs since the Penelope Gate and the loss of the presidential campagne, while candidate Francois Fillon facing Emmanuel Macron.
LOFVEN TO ATTEND PARIS AGREEMENT DAY
Responsible Author: Rahma Sophia Rachdi, J Foster | Paris, Washington DC, Goteberg, 11/17/2017, 21:48 Time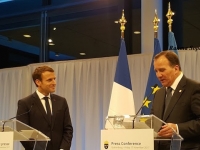 USPA NEWS -
The French President Macron and Swedish Prime Minister Stefan Lofvel signed a partnership called " Innovation and Green Solutions" at Volvos' Headquertss in Goteberg. Stefan Lofvel announced he will be attending the Paris Agreement Day, of 12-12-2015, in Paris. After a short visit of Volvo's technologies and Swedish innovations, the two head of states gave a press conference at Volvo's lobby, after they signed the partnership.
| | |
| --- | --- |
| | RAHMA-SOPHIA RACHDI |
| | Ruby BIRD |
| | Yasmina BEDDOU |
| | Daren Frankish |
| | Robbie Merritt |
This will be shown to users with no Flash or Javascript.