Search results for: "Rahma Sophia Rachdi"
UNDER PRESIDENCY OF MACRON
Responsible Author: Rahma Sophia Rachdi, Jedi Foster | Paris, Washington DC, 11/11/2018, 23:54 Time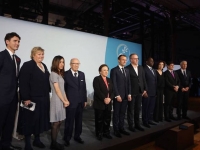 USPA NEWS -
In the afternoon of Sunday, November 11, 2018, more than 70 heads of state met at the Halle de la Villette (Historic Place Parisien de l'Est, along the banks of Canal Saint Martin) to participate in the Forum de the peace. This is the first edition of this peace forum that was decided by President Macron and coincide with the commemoration of the armistice of November 11, this year, marked by the centenary. The French Head of State has therefore taken the initiative to invite dozens of heads of state (Presidents, King of Morocco, Prince of Monaco and Prime Ministers and Ministers of Foreign Affairs, as well as the Secretary General of the UN and the Managing Director of IMF and Managing Director of OECD). This meeting around peace wanted the French side was the second highlight of this day of commemorations of the Great War, after the ceremony at the Arc de Triomphe. This first edition is brought to renew each year at the same date.
AND HAD LUNCH WITH SPOUSES AT ELYSEE
Responsible Author: Rahma Sophia Rachdi, Jedi Foster | Paris, Washington DC, 11/11/2018, 00:14 Time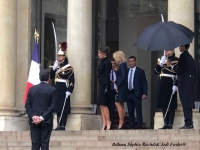 USPA NEWS -
Donald Trump's tweet of the day before, according to which, the American President, sais he felt insulted by the French President, to have suggested a "next European army, to better protect himself against China Russia and even the United States", on the proposal Emmanuel Macron of a European army, had announced the tempo rather "angry".
Since then, the two heads of state met today at the Elysee, for a tête à tête followed by a lunch offered by the President Francais alongside their respective spouses, Brigitte Macron and Melania Trump.The red carpet was not deployed at the court Elysee, yet, the Republican Guard, has made his fanfare with fifty guards, more than usual.
The press of at least a hundred journalists from all over the world was hoarded in a pool in the courtyard of the Elysee, in a continuous rain, and in the press room, as well as the White House press, having traveled with President Trump from Washington DC.
| | |
| --- | --- |
| | RAHMA-SOPHIA RACHDI |
| | Robbie Merritt |
| | Ruby BIRD |
| | Yasmina BEDDOU |
| | Daren Frankish |