Search results for: "President Macron"
WELCOMED BY NICOLAS SON AZNAVOUR
Responsible Author: Rahma Sophia Rachdi, Jedi Foster | Paris, Washington DC, Erevan, 10/12/2018, 12:01 Time
USPA NEWS -
French President Macron and First Lady, Brigitte Macron, visited the Aznavour Foundation Centre to inaugurate the extensions of future projects. The Armenian President Armen Sarkissian was also here to welcome his French counterpart. The Centre, founded in 2007, by Charles Aznavour French-Armenian singer who passed away, on October 1st, was the son of Armenian migrants who immigrated to France, decades ago. President Macron, expressed, very moved, his admiration to this singer who became one the most influential French singer of all time. Charles Aznavour should have been part of the delegation accompanying the President Macron for the summit of the Francophonie in Yerevan, but fate has decided otherwise ... And it is Nicolas Aznavour, the youngest son, who welcomed the president , and the First Lady, Brigitte Macron.
"He is not at the rendezvous, but he would have wanted it so much": regretted the President Macron Charles Aznavour, with emotion by the son of Charles Aznavour, who died last week. President Macron paid a new tribute Thursday to the singer in his center created in Yerevan to "strengthen Franco-Armenian ties".
SINCE RESIGNATION OF COLLOMB A WEEK AGO
Responsible Author: Rahma Sophia Rachdi, Jedi Foster | Paris, Washington DC, 10/09/2018, 23:16 Time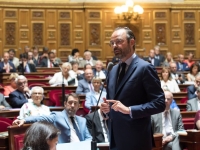 USPA NEWS -
While the reshuffle is long overdue, it appears that the final list of ministers is not yet over ?
Is the reshuffle the best solution to be profoundly revised for the Philppe's II government. Why is the reshuffle taking so longer than expected, as the opposition is getting too impatient, one week after the resignation of Interior Minister Gerard Collomb ? One of the assumptions is that the list of government members would not be complete yet, hence it is growing in magnitude at the impatience of the opposition. Reportedly, Emmanuel Macron and Edward Philipe would have faced at least five candidates who declined the offer to join the government, including the Ministries of Interior and Culture.
| | |
| --- | --- |
| | RAHMA-SOPHIA RACHDI |
| | Robbie Merritt |
| | Ruby BIRD |
| | Yasmina BEDDOU |
| | Daren Frankish |
This will be shown to users with no Flash or Javascript.