Search results for: "Jedi Foster"
HE DIED AT 94 ON OCT 1ST
Responsible Author: Rahma Sophia Rachdi, Jedi Foster | Paris, Washington DC, Erevan, 10/12/2018, 12:47 Time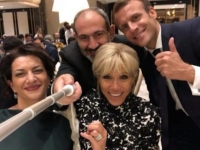 USPA NEWS -
n the evening, of October 11th, several thousand people gathered on the Republic Square, the largest in Yerevan, for the gala concert of the summit of the Francophonie whose guest of honor should have been Charles Aznavour. "He would not have wanted us to be sad!", Launched the young singer Zaz by calling on spectators and leaders to set the mood.
This Thursday, October 11th, TV5MONDE, direct operator of the International Organization of the Francophonie, diffuses in exclusivity in the world the concert "Gala of the Summit of the Francophonie" in tribute to Charles Aznavour which will take place directly of Yerevan. This concert took place in the presence of the President of the French Republic Emmanuel Macron, his wife and some forty French-speaking heads of state including Justin Trudeau (Canada), Charles Michel (Belgium), Alain Berset (Switzerland) and the new Premier of Quebec, François Legault, at Republique Arena. The concert showcased Armenian traditional songs and folkloric dances, and performances of famous artists singing the greatest titles of the singer disappeared, with among others Melody Gardot, Angelique Kidjo, Zaz and Serge Lama.
WELCOMED BY NICOLAS SON AZNAVOUR
Responsible Author: Rahma Sophia Rachdi, Jedi Foster | Paris, Washington DC, Erevan, 10/12/2018, 12:01 Time
USPA NEWS -
French President Macron and First Lady, Brigitte Macron, visited the Aznavour Foundation Centre to inaugurate the extensions of future projects. The Armenian President Armen Sarkissian was also here to welcome his French counterpart. The Centre, founded in 2007, by Charles Aznavour French-Armenian singer who passed away, on October 1st, was the son of Armenian migrants who immigrated to France, decades ago. President Macron, expressed, very moved, his admiration to this singer who became one the most influential French singer of all time. Charles Aznavour should have been part of the delegation accompanying the President Macron for the summit of the Francophonie in Yerevan, but fate has decided otherwise ... And it is Nicolas Aznavour, the youngest son, who welcomed the president , and the First Lady, Brigitte Macron.
"He is not at the rendezvous, but he would have wanted it so much": regretted the President Macron Charles Aznavour, with emotion by the son of Charles Aznavour, who died last week. President Macron paid a new tribute Thursday to the singer in his center created in Yerevan to "strengthen Franco-Armenian ties".
| | |
| --- | --- |
| | RAHMA-SOPHIA RACHDI |
| | Robbie Merritt |
| | Ruby BIRD |
| | Yasmina BEDDOU |
| | Daren Frankish |
This will be shown to users with no Flash or Javascript.