Search results for: "Jedi Foster"
From Ethiopia Bangladesh Palestine
Responsible Author: Rahma Sophia Rachdi, Jedi Foster | Paris, Washington DC, 04/19/2018, 01:12 Time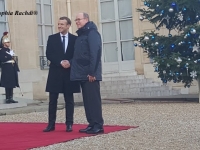 USPA NEWS -
The Monaco-based International Emerging Film Talent Association (IEFTA), fulfils its mandate, and returns for this year's 71st Cannes Film Festival (8-19 May) with new as well as returning initiatives.cWith its mission to discover, nurture and empower budding filmmakers from emerging economies, IEFTA once again, in partnership with the Marché du Film and its Producers Network and Industry Workshops programs, will bring filmmakers to the South of France for a career-developing trip to Cannes. Focusing on the world's emerging regions, IEFTA's Global Film Expression provides opportunity and education to those with little to no access to resources for cinematic expression.
This is the eighth year of IEFTA's GFE program to be presented in Cannes. With IEFTA sponsorship, Ethiopian filmmakers are making their fourth visit to the Cannes Film Festival following an intensive weekend workshop in Addis Ababa representing several diverse regions of Ethiopia to select this year's participant. This year's winner was put forward by the panelists involved in the workshop including Tribeca Film Institute, TorinoFilmLab, Watersprite Film Festival and Les Films de l'Après-Midi.
Namibia is qualified for the U-20 World
Responsible Author: Rahma Sophia Rachdi, Jedi Foster | Paris, Washington DC, Zanzibar, 04/19/2018, 00:54 Time
USPA NEWS -
The African Under-20 Rugby Championship took place from March 28th to 31st, 2018. The competition was split into two groups (the North played in Tunisia and South in Namibia) competing at a distance for the African championship title.
More than 394 points and 53 tries were scored in 8 matches.
• Namibia emerged victorious from the South group after a match of exceptional intensity against Kenya.
• Tunisia won the final of the North group, a match full of suspense right up to the final whistle with a dramatic drop goal by the number 10 m, Dhia Ben Dhied, in the second minute of extra time.
| | |
| --- | --- |
| | Robbie Merritt |
| | DENNIS WARD |
| | Jose A Martin |
| | Ricardo Dominguez |
| | Zayad Alshaikhli |
This will be shown to users with no Flash or Javascript.