Search results for: "France"
BY SCORING 4-2 AIGAINST CROATIA
Responsible Author: Rahma Sophia Rachdi, Jedi Foster | Paris, Washington DC, 07/15/2018, 20:14 Time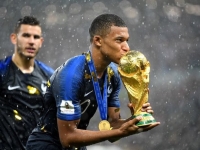 USPA NEWS -
France has won the 2018 FIFA World Cup, defeating Croatia 4-2. LES BLEUS, Team France wins the FIFA finale against Croatia and brings home gold, twenty years later, since they we're champion of the world, in 1998, by defeating Brazil.
The players celebrated their victory as they received the Golden Cup, by the French President Macron, and Vladimir Poutine, and danced in the rain that hit Luzhniki Stadium in Moscow right at the time of the final whistle. The youngest player Kyllian Mbappe, is awarded the golden player who scored 4 goals during 7 matches. The s talented player who is only 19, has been very remarkable dragon the world cup tournament, showcasing not only his talent but also his kind generous and sociable personality. Meanwhile France is celebrating the victory in most of the cities, as 250 fan zones, were set up, for the final, and especially Paris where the nearly One million people is gathered at Champs Elysee, the so called "Most beautiful " Street fo the world.
BIG DAY FOR OVER 2000 YOUNG AFRICANS
Responsible Author: Alain TCHEGNON | Philadelphia, 07/06/2018, 22:11 Time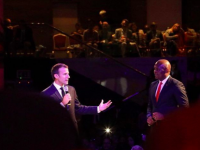 USPA NEWS -
During his historic visit in Lagos in Nigeria on Wednesday, July,4Th His .Excellency. Emmanuel Macron, President of the French Republic engage with nearly 2,000 Tony Elumelu Foundation (TEF) alumni during an exclusive interactive session, alongside other entrepreneurs in the ecosystem and Tony Elumelu Foundation Mentors. The historic event took place at the Eko Hotels and Suites, on 1415 Adetokunbo Ademola Street.
| | |
| --- | --- |
| | RAHMA-SOPHIA RACHDI |
| | Robbie Merritt |
| | Ruby BIRD |
| | Yasmina BEDDOU |
| | Daren Frankish |
This will be shown to users with no Flash or Javascript.