Search results for: "Elysee"
V. ZELENSKY WELCOMED AT ELYSEE PALACE
Responsible Author: Jedi Foster, Rahma Sophia RACHDI | Paris, Washington DC, 05/15/2023, 02:21 Time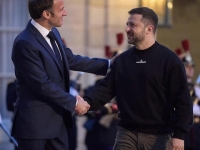 USPA NEWS -
French President Macron welcomed his counterpart the President of the Republic of Ukraine, Volodymyr Zelensky in Paris this Sunday, May 14, 2023 for a working dinner at the Elysee Palace, which lasted more than four hours. President Zelensky was dressed in his usual military uniform, as a warlord, since Ukraine was attacked by Russia on February 24, 2022 and was welcomed by the French PM Elisabeth Borne alongside with the Minister of Foreign Affairs, Catherine Colonna at the private airport on the tarmac, with no protocol and without red carpet. The Ukrainian Head of State arrived on board a Falcon plane from the French Republic, in return for Germany where he had been received by the German President. He was also received by Chancellor Olaf Scholtz. who presented him with the Charlemagne Prize, a distinction rewarding a commitment to European unification, in Aix-la-Chapelle. "As long as necessary, France will continue to provide political, financial, humanitarian and military support to the Ukrainians."said President Macron, on his Facebook post.
EU COMMISSIONNER T. BRETON AT ELYSEE
Responsible Author: Jedi Foster, RSR | Paris, Washington DC, 05/11/2023, 21:43 Time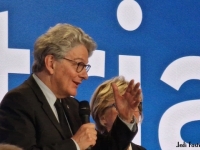 USPA NEWS -
French President Macron brought together today Thursday, May 11, 2023 at the Elysée Palace the actors of French industry, business leaders, elected officials and representatives of communities and associations on the occasion of the "accelerating our reindustrialization" event. On this occasion, President Macron unveiled the future measures to accelerate the advent of an innovative and low-carbon industry around major issues, such as strengthening our attractiveness to support green industries, accelerate industrial establishments, support and anticipate changes in the territory. He said in straightforward way "We cannot have a strong model by deindustrializing". Above all, he noted the last two decades of deindustrialization "in the post-financial crisis, we lose about 600 factories. So there is a phase of deindustrialization, if I may say progressive" he acknowledged before explaining the reasons by an economic logic "we must produce more wealth and we have created a huge differential. If I take the GDP per capita, we have a differential of 10 points compared to our German neighbors, 12 points compared to our German neighbors," explains President Macron.
| | |
| --- | --- |
| | RAHMA-SOPHIA RACHDI |
| | Daren Frankish |
| | Ruby BIRD |
| | Aurangzeb Akbar |
| | Yasmina BEDDOU |